Easter Egg Seed Bombs: An Easter Craft Idea from the Gemperle  Egg Farm
Looking for a non-chocolate Easter gift this season? On our Gemperle Egg farm, Easter is one of our favorite holidays and we are always searching for the best Easter crafts and ideas. We have discovered that Easter egg seed bombs are the perfect non candy gift to give to family and friends. They are easy to make and are a fun family craft project. The main idea is to fill a blown out egg with seeds and a filler then the egg bomb can be thrown on the ground, it explodes and the seeds are scattered and ready to nurture. You can make themed eggs – wild flowers, zinnia cutting mixes, herb gardens — or to make it extra special and fill it with the seeds you harvested from last year's garden. Kids will have fun throwing their egg bomb, nurturing the young seedlings and lastly harvesting their flower or herb crop.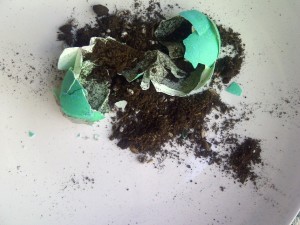 Items Needed:
Eggs (Fresh from the Gemperle Egg Farm are the best!)
Seeds (wildflower mixes or Zinnias are good choices as well as herbs)
Sawdust, compost or peat (acts as a planting medium)
Small funnel (for putting seeds into eggs)
Wooden kabob stick for poking a whole in the eggs/ or metal skewer
A candle (wax used to seal egg)
Colored Sharpies for decorating (or you can use natural dyes to color your eggs before filling)
Step 1. Make the blown out eggs. Poke a hole on each side of longest part of the egg. Push the skewer in and give it a swirl to break up the egg. Now blow in one end of the egg and the inside will come out of the opposite side into a bowl below.
When you have blown out all your eggs, rinse them out thoroughly with warm water, and leave to dry. We suggest waiting overnight to let the inside dry.
Step 2. Seal up the top hole of the egg. Seal the top of the egg with hot wax from a candle. After the wax dries you can scape it smooth.
Step 3. Fill the eggs with seeds and your planting medium. You may need to make your hole slightly bigger.  A funnel placed over the hole using your kabob stick to push the seeds and planting medium in works quite well.
Step 4. When you have enough seed mix inside, seal up your hole with wax.
Step 5. Decorate your eggs and remember to label each egg with the variety of seeds inside. Note you can also color your eggs with a natural dye before filling them with seeds.
We used a recycled Gemperle Egg carton and replaced the label with a Happy Easter label and planting instructions to gift our Easter egg seeds bombs.
For more egg crafts visit the kids' corner of our Gemperle Enterprises Egg farm website at www.gemperle.com