Naturally Dyed Easter Eggs: A Centuries Old Tradition
Easter is nearing and the time has come to celebrate the centuries old springtime tradition of dying Easter eggs.  On our Gemperle egg farm, the Gemperle family takes this task seriously using some of our old family Swiss traditions of preparing natural dyes to color our eggs! We have keen memories of our mother boiling the onion skins, plopping the egg in the solution and eagerly waiting for the color to emerge. In the sixties and seventies we remember a variation of this technique –  tie-dyed Easter eggs using old pantyhose and natural items we collected from the garden. It was fun seeing what would emerge after we removed the eggs from the dye solution.
This Easter it's time to get back to the basics and explore old traditions; forget about all those toxic dyes and chemicals. Why not try a new approach to dying your Easter eggs. All you need are a few ingredients like red cabbage, onion skins, beets and a bit of white vinegar and a keen sense of kitchen exploration.
Natural Egg Dye Recipes
Put 2 ½ cups of water in a medium sized sauce pan. Place the ingredient(see options below) for your chosen color in the pan and simmer covered for 15 minutes. Give the solution a stir every couple of minutes. Strain the liquid into a mug sized container and add two tablespoons of vinegar into the solution; let cool to room temperature. Now you are ready to color your boiled eggs. The longer you leave the egg in the solution the darker it will become. We found that 30 minutes worked well for most colors. If you plan to leave your eggs in the solution longer, place them in the refrigerator. The colors will deepen the longer the eggs soak in the natural dye solution.
Colors
Yellow: Turmeric, 3 tablespoon fresh or dried
Blue: Purple Cabbage, 3 cups chopped
Orange: Yellow Onion skins, 4 cups loosely packed
Brown: Red onion skins, 4 cups loosely packed
Pink and red: Beets, 2 cups chopped
Golden brown: Black tea (Earl Grey), 3 tablespoon loose tea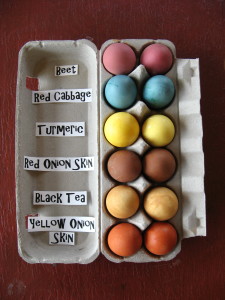 Tie-Dyed Easter Eggs
For special designs on our eggs we used a simple tie-dyed technique and  a few small leaves, blossoms and grasses collected by the kids from the garden, as well as some flat leaf parsley from the fridge.
Items needed: Panty hose, twisty ties or rubber band, things collected from your garden
Directions: Cut a piece of pantyhose and put a twisty tie on one end. Put the egg in the pantyhose section and place leaves/flowers on the egg. Now place a tie on the other end. Place your egg in the dye for about 30 minutes or longer depending on desired color. The outcome is always a mystery and two eggs never look the same. Kids love removing the pantyhose and discovering what's underneath.
Have fun with your family this Easter creating traditions that the  kids will remember for a lifetime.   Try making our Gemperle Egg Ranch  Braided Swiss Egg Bread . You can even braid in a few of your naturally dyed eggs to make a beautiful , edible Easter centerpiece. Do this by shaping the braid in a circle to resemble a nest. Or create some Easter Egg Seed Bombs the perfect non candy Easter gift to give to those special folks in your life that love flowers and plants.
Google