Enjoy Gemperle Egg Ranch breakfast favorites! We encourage you to go to our Facebook page to explore more great egg recipes.
The Two Minute Ham, Cheddar and Egg Breakfast Burrito
Auntie Heidi's Dutch Baby Pancake with Berries
Orange & Almond Waffles(Gluten Free)
Ham & Egg Breakfast Grilled Cheese
The Two Minute Ham, Cheddar and Egg Breakfast Burrito
For households across the country, the moment before kids head out the door in the morning can be quite stressful. Fortunately, putting together a portable egg breakfast takes less than two minutes and costs under a dollar per serving. Recruit your older kids to help make this Gemperle Farms kid-approved breakfast favorite:

Ingredients:
• 1 egg, beaten
• 1 Tbsp. water
• 2 Tbsp. fully-cooked ham
• 2 Tbsp. Cheddar Cheese, grated
• 1 Tbsp. chopped red onion (optional)
Directions:
1. Crack the egg into a cereal bowl or two-cup ramekin and beat with the water until well blended.
2. Add chopped ham and onions.
3. Microwave the egg mixture on high for approximately 30 seconds.
4. Give the eggs a little stir and microwave for an additional 20 to 40 seconds until the eggs are just about set.
5. Remove eggs from the microwave and heat the tortilla for 20 seconds on high in the microwave.
6. Place the cooked eggs in the warmed tortilla and sprinkle with cheese.
7. Roll up and enjoy!
Variations:
• Add salsa or a spread of pesto before rolling.
• Replace the ham with cooked sausage.
• Replace the tortilla with a toasted whole wheat bread or English muffin for an egg sandwich.
• For a vegetarian version, add leftover cooked broccoli to the egg mixture.
If you prefer to skip the microwave, follow the first two steps and then fry the egg mixture on the stovetop for about three minutes until the eggs are about set.
Auntie Heidi's Dutch Baby Pancake with Berries
Everyone at Gemperle loves a Dutch baby, especially with summer berries. You won't believe how puffy it gets. Tip: it loses it puffiness fast so make sure everyone is on the table when it comes out of the oven.
Prep Time: 7 minutes cooking time: 15-18 minutes
Serves 2
Ingredients:
3 EGGS
1/2 cup milk
1/3 cup flour
2 Tablespoon sugar
1/4 Teaspoon salt
1 Tablespoon butter
1 cup mixed berries with one
Directions:
Step 1. Preheat oven to 450 degrees
Step 2. Beat eggs, milk, flour, sugar and salt in bowl until batter is smooth
Step 3. In a 10 inch oven proof skillet place the butter and melt in the oven about 2 minutes. Remove the pan and tilt it to cover the bottom with butter.
Step 4. Pour prepared batter into hot skillet. BAKE in 450°F oven 8 minutes. Reduce oven setting to 375°F and bake for another 8-10 minutes until its golden brown and puffy. Cut it into pie shaped wedges and serve with a spoonful of fresh mixed berries (or frozen thawed) and powdered sugar or maple syrup. Serve immediately because it will lose its puffiness very quickly.
Orange & Almond Waffles (Gluten Free)
These are Kids tested and highly approved!  They Taste like a crisp French toast.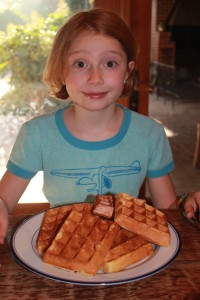 3 ½ cups Gluten Free Flour
¼ cup almond Meal
1 Tablespoon Baking soda
1 ½ teaspoons Baking powder
1 Tablespoon Sugar
1 teaspoon salt
3 ¼ cups buttermilk
½ cup coconut oil
½ cup (1 stick) melted butter
3 large eggs
1 ½ teaspoon vanilla extract
¾ teaspoon almond extract
Orange zest (to taste) ½ to a whole orange
Directions
Combine dry ingredients with Wet ingredients and Wisk together.  Ladle onto hot waffle iron and bake according to manufacturer's instructions.  Serve immediately.
Hint to keep waffles warm and crisp while you bake enough to sit down with your crew.  Before mixing, turn the oven on to 200 degrees and set oven rack in the middle position.  Set wire rack in rimmed baking sheet: place in oven.  Transfer waffles to wire rack in preheated oven.  Repeat until you are ready to serve.
Ham & Egg Breakfast Grilled Cheese
This yummy Gemperle egg ranch breakfast will keep you and your kids going all morning. It's a quick easy breakfast to prepare during busy mornings.
Prep Time: 4 minutes Cook Time: 6-8 minutes
Serves 2
Ingredients:
2 Eggs
2 Tbsp. water
Salt and pepper
3 tsp. soft butter
4 slice whole wheat bread
4 slices honey ham
2 slices cheddar cheese
Directions:
Step 1. Beat eggs, water salt and pepper in bowl
Step 2. HEAT 1 tsp. butter in large nonstick hot skillet. Pour in the eggs and form an omelet. Push egg mixture to sides of pan without stirring eggs. When thoroughly cooked remove egg omelet from pan and wipe out skillet.
Step 3. Spread the remaining butter on one side of each piece of bread. Places 2 slices in skillet, buttered side down. TOP evenly with pieces of the omelet, cheese and ham. COVER with remaining bread, buttered side up.
Step 4. Cook 2-4 minutes sandwiches over medium heat until bread is toasted on each side and cheese is melted.
We hope you enjoyed our Gemperle Egg Ranch breakfast favorites